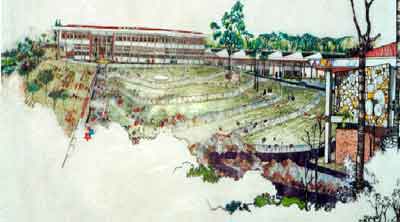 LUNGLEI POLYTECHNIC, MIZORAM
Consultancy project under PWD, Govt. of Mizoram.
Location : Hrangchalkawn, Lunglei
Narrative Description :
Polytechnic complex on a land of 40 acres consists of polytechnic building, administrative building, girls hostel, boys hostel, staff quarters and anciliary amenities.

Duration : 1989 - 93
Status : Phase-I (survey work, contour map, project report, master plan, preliminary drawings of polytechnic building and working drawings of boys hostel and girls hostel) completed.